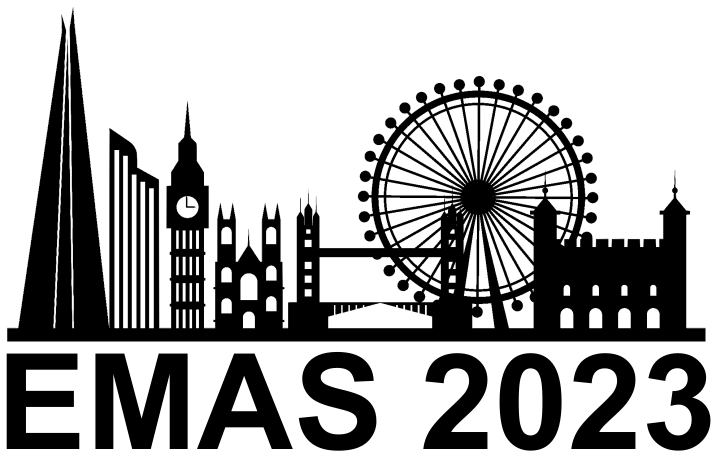 11th International Workshop on Engineering Multi-Agent Systems
In conjunction with AAMAS 2023 (29-30 May 2023, London, UK)
---
A key unifying theme underlying Artificial Intelligence and Machine Learning is the idea of intelligent software agents able to reason, act, interact, and learn. This metaphor has stimulated much research in AI and particularly in Autonomous Agents and Multi-Agent Systems, giving rise to research in agent-oriented software engineering, programming multi-agent systems, and declarative agent languages and technologies.
The Engineering Multi-Agent Systems (EMAS) workshop has been held as part of AAMAS since 2013, and was previously affiliated to AAMAS through Agent-Oriented Software Engineering (AOSE), Programming Multiagent Systems (ProMAS), and Declarative Agent Languages and Technologies (DALT) since the first AAMAS in 2002.
EMAS 2023 will provide a forum for researchers and practitioners interested in the theory and practice of engineering intelligent agents and multi-agent systems (MAS). The overall purpose of the workshop is to facilitate the cross-fertilization of ideas and experiences in the various fields to:
enhance our knowledge of the theory and practice of engineering intelligent agents and multi-agent systems, and advance the state of the art;
demonstrate how MAS methodologies, architectures, languages, and tools can be used in the engineering of deployed large-scale, open, and data-driven MAS;
define new directions for engineering MAS by drawing on results and recommendations from related research areas; and
encourage Ph.D. and Master's students to become involved in and contribute to the area.
Despite the substantial body of knowledge and expertise developed in the design and development of MAS, the systematic development of large-scale and open MAS still poses many challenges. Even though various languages, models, techniques, and methodologies have been proposed in the literature, researchers and developers are still faced with fundamental questions attaining MAS engineering, such as:
How to specify, design, implement, verify, test, and validate large-scale and open MAS?
How to ensure and control the global behaviour of decentralised, large-scale, and open MAS?
How to seamlessly integrate AI, machine learning, and data-driven techniques into the design and development of agent-based systems?
Which (multi-)agent architectures and languages are most suitable for MAS in different domains?
How to engineer agent and multi-agent systems that are secure and protect the privacy concerns of users?
How to scale to the complexity of real-world application domains?
What are the implications of MAS engineering in the context of continuous development and deployment?
How can MAS be applied in specific application areas, such as Cyber-Physical Systems and Internet of Things / Web of Things?
How to seamlessly integrate MAS engineering with mainstream software engineering models, languages, frameworks and tools?
Which processes and methodologies can integrate the above and provide a disciplined approach to the engineering of MAS?

Important Dates
| | |
| --- | --- |
| Submission deadline: | February 22, 2023 March 5, 2023 |
| Author notification: | March 27, 2023 |
| Camera-ready deadline | April 27, 2023 |
| EMAS | May 29-30, 2023 |
Committees
Programme Committee
Natasha Alechina, Utrecht University
Matteo Baldoni, Università di Torino
Luciano Baresi, Politecnico di Milano
Cristina Baroglio, Università di Torino
Olivier Boissier, MINES Saint-Étienne
Daniela Briola, University of Milano Bicocca
Rafael C. Cardoso, University of Aberdeen
Moharram Challenger, University of Antwerp
Amit Chopra, Lancaster University
Andrei Ciortea, University of St.Gallen
Rem Collier, UCD
Stefania Costantini, Univ. dell'Aquila
Fabiano Dalpiaz, Utrecht University
Mehdi Dastani, Utrecht University
Maiquel de Brito, Federal University of Santa Catarina
Davide Dell'Anna, Delft University of Technology
Louise Dennis, University of Manchester
Angelo Ferrando, University of Genova
Lars-Ake Fredlund, Universidad Politécnica de Madrid
Stéphane Galland, UBFC - UTBM
Jorge Gomez-Sanz, Universidad Complutense de Madrid
Zahia Guessoum, Université de Paris 6 and Université de Reims Champagne Ardenne
James Harland, RMIT University
Vincent Hilaire, UTBM/IRTES-SET
Koen Hindriks, Vrije Universiteit Amsterdam
Tom Holvoet, Katholieke Universiteit Leuven
Jomi Fred Hübner, Federal University of Santa Catarina
Joao Leite, Universidade NOVA de Lisboa
Yves Lespérance, York University
Jieting Luo, University of Bern
Viviana Mascardi, University of Genova
Simon Mayer, University of St.Gallen
John-Jules Meyer, Utrecht University
Roberto Micalizio, Università di Torino
Luis Gustavo Nardin, Mines Saint-Étienne
Enrico Pontelli, New Mexico State University
Wishnu Prasetya, Utrecht University
Alessandro Ricci, University of Bologna
Luca Sabatucci, ICAR-CNR
Valeria Seidita, Università degli Studi di Palermo
Jaime Sichman, University of São Paulo
Tran Cao Son, New Mexico State University
Jørgen Villadsen, Technical University of Denmark
Danny Weyns, Katholieke Universiteit Leuven
Michael Winikoff, Victoria University of Wellington
Vahid Yazdanpanah, University of Southampton
Neil Yorke-Smith, Delft University of Technology
Yingqian Zhang, Eindhoven University of Technology
Steering Committee
Matteo Baldoni
Rafael Bordini
Mehdi Dastani
Jürgen Dix
Amal El Fallah Seghrouchni
Brian Logan
Jörg P. Müller
Alessandro Ricci
Danny Weyns
Michael Winikoff
Rym Zalila-Wenkstern